We've all been there… Grandparents or Aunts and Uncles ask what the kids want and you just can't come up with anything! We are here to help! As a group of parents, educators, and therapists, we created a list of our top gift ideas for children 2-8 years old. 
Stocking Stuffers
Nogginsland Noggin's 4-pack or 8-pack
Noggins are repositionable foam stickers used to transform tools and objects into creatures, teaching young children fine and visual motor skills through play. They transform tools and objects into characters and creatures, sparking imagination, and allowing children to learn and grow through play. They can be attached to virtually any object and then easily repositioned or removed.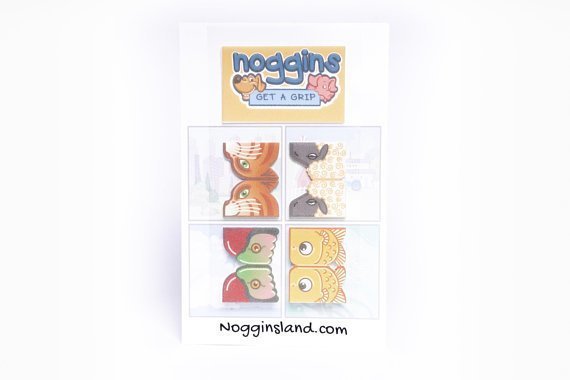 Noggins 4-Pack Stickers
$6.95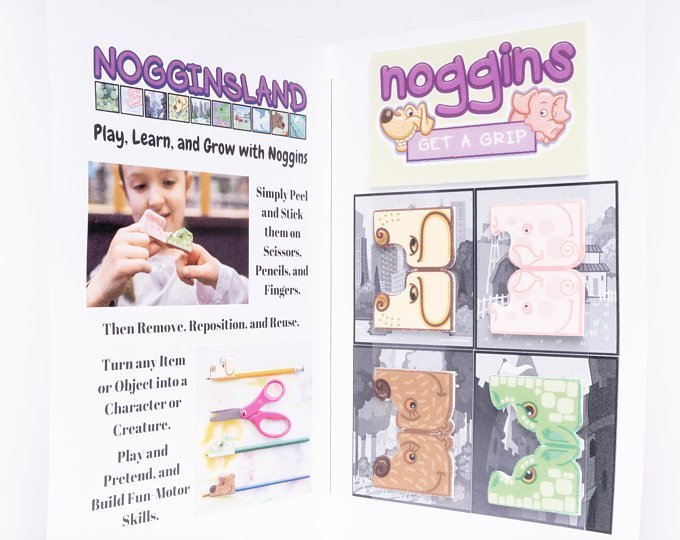 Noggins 8-Pack Stickers
$11.95
WikkiStix
These are molding sticks made from a waxy yarn combo. They are durable and reusable. They are fun for sculpting and building and can really spark little one's imaginations with the creative things they can construct. These are great for all ages and they're easy to throw in your diaper bag, handbag, or car to always have on-hand for entertainment on the go.
Crayons
You can't go wrong with art supplies! The possibilities are endless.
Crayola Color Bath Dropz
These color bath tablets make bath time extra fun by changing the color of the bath water. They don't stain your tub or your child's skin. You can use 1 tablet in your favorite color or you can mix 2 tablets to create a color! These are like "bath bombs" for the kids.
Card Games
Card games are a fun way to work on academic skills like matching or counting, social skills, and strategy.
Rubik's Cube
For kids 8 and older. It's challenging but fun, and builds both visual motor and hand skills.
Snow Markers
Another great craft option for cold climates! These snow markers are just another way for the kids to have fun in the snow and use their imagination!
Madlibs
It builds language skills for children 5 and older, and are just super fun and silly.
Toys & Games
Nogginsland Airplane Activity Set
There's a ton of opportunities for creativity and learning. They can be colored and designed allowing children to be creative, but there's also a certain sequence and structure required to build the planes. They can be named, and given different pilots, and even modified after they're built.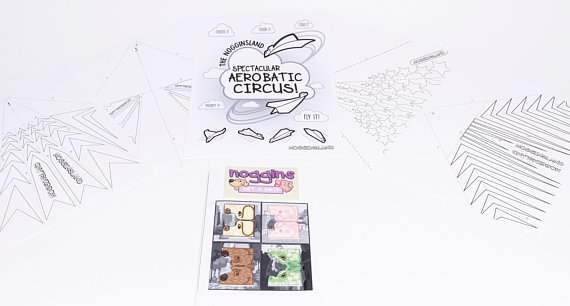 Noggins Paper Airplane Activity Set
$9.95
Nogginsland Noggins Starter Set
The Noggins Starter Set is a fun choice because it combines 4 Noggins and 16 activity worksheets plus the manual and the bag!  A great value and introduction to Noggins.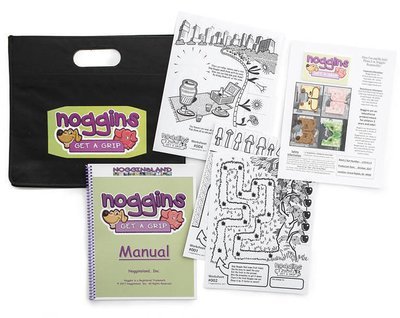 Nogginsland Starter Set
$17.95
Melissa & Doug Deluxe Standing Art Easel
This art easel is an all-in-one: paper roll holder for painting, chalkboard, and dry-erase board. The accessories are sold separately but are totally worth it. I recommend getting the accessory set as well because it has everything your little ones need to get crafty: poster paint, paint cups, paint brushes, paper roll, chalk, eraser, and dry-erase marker.
iPlay, iLearn Kids Bowling Play Set
It is good for building hand-eye coordination, motor skills, counting skills and is a fun activity for kids to play together in teams.  The set is colorful and made of soft foam material.  Recommended for kids 2 and up.
Guess Who
Guess Who is a fun game for kids because they can use their imaginations to think about different questions to ask during the game.
Magna-Tiles
Oh my goodness, Magna-Tiles are so fun they entertain all ages, including me! These magnetic tiles make it easy for even the littlest fingers to grasp and build all sorts of different structures. My 5-year-old daughter enjoys building houses and castles and then using her dolls to play pretend. While my 7-year-old son enjoys building tall towers and elaborate structures that my 1.5-year-old nephew enjoys knocking down. You can get add-on sets for even more fun like domes, tunnels, and cars.
Nogginsland Animal Bodies Activity Set
All kids love animals and can relate to them! If kids are interested, they'll be more likely to use them.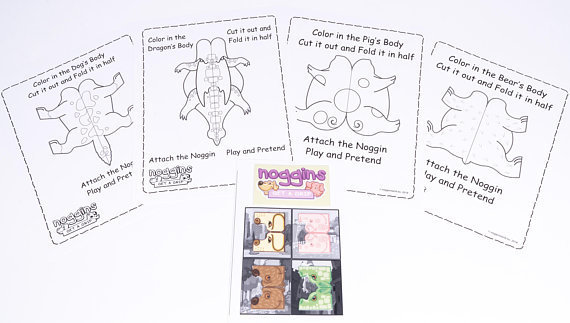 Noggins Animal Activity Set
$9.95
LeapFrog LeapPad Ultimate
The LeapFrog LeapPad is the perfect tablet for kids ages 2-7. They're durable and they come with preloaded educational games, videos, ebooks, and more and have additional apps that can be purchased and downloaded directly or through a game cartridge. At 3 years old my daughter loved "playing" on her LeapPad while I loved that she was learning letter recognition and practicing tracing letter shapes. The LeapPad is also compatible with Noggins – we have used Noggins on the attached LeapPad stylus.
Connect4
It's a simple game compared with so many out there. I enjoy knowing such a simple game can entertain my kids! Sometimes simple is better!
Legos
They are the very best toy in my opinion. They build fine and visual motor skills, and allow for never-ending creativity. The age range is for 3 years and older.
Uno Attack
This is a new twist on an old classic…Uno. In Uno Attack, there are more special cards, not to mention the fun toy that spits the cards out at you!
Dress Up Costumes
Dressing up is such a fun way for kids to pretend! It encourages imagination, creativity and sometimes dreams for future aspirations when dressing up as a profession or person that a child admires.
Play-Doh
It's for children age 2 and above. It is so beneficial in building fine motor skills and strength, but also has such possibilities for creativity and imagination.
Mr. Potato Head
Meant for ages 2 and up, Mr. Potato Head is just such a simple but effective toy that helps children develop body awareness and hand skills through silly play.
Books
The Little Engine That Could by Watty Piper
This is a classic! It is an encouraging story and a definite favorite!
The Elf On The Shelf by Carol V. Aebersold and Chanda A. Bell
This is such a fun tradition! The kids love naming their elf and finding it every morning!
The Pigeon Needs a Bath by Mo Willems
We've read this book countless times and it never gets old. We love the stories and the pictures of course!
Love You Forever by Robert Munsch
It is such a beautiful story! You can't go wrong with this sweet classic!
Giraffes Can't Dance by Giles Andreae
It's a fun-to-read rhyming story about Gerald the Giraffe who gets teased for being clumsy at the Jungle Dance. But a friend helps him learn that "sometimes when you're different you just need a different song". It's such a sweet book about celebrating our differences and being proud of your uniqueness.
The Lorax by Dr. Suess
Anything by Dr. Suess is great, but the Lorax is a touching story about the world we live in.
Written by: The Nogginsland Team
Edited & Designed by: Christina Denham
John Haber
My name is John Haber. I'm a Pediatric Occupational Therapist and the founder of Nogginsland. I became a COTA in 2003, and then went back to school much later, receiving my Master's Degree in OT from Mercy College in New York in 2016.
Over the years, I've worked with a variety of populations in different settings, from school districts, to developmental disability centers, to children's hospitals.